USA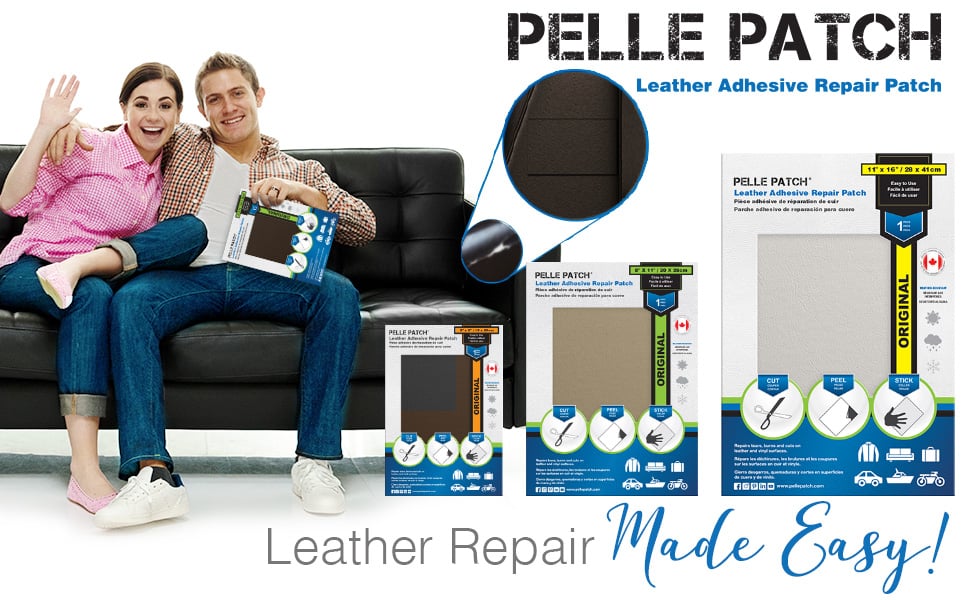 While we've made sure the colors displayed here match the actual patches, please note that your monitor may not display them accurately. To make sure you get a perfect color match, we recommend ordering our Pelle Patch Color Guide.
Pelle Patch Leather Repair
When it comes to materials, nothing beats the feel and luxury that you get with leather. But as anyone will tell you, this beautiful material is especially prone to wear and tear, leading to rips, holes and unsightly cracks in the upholstery over time.
This is where Pelle Patch comes in. Instead of going through the expensive and time-consuming process of reupholstering damaged leather, our peel and stick patch allows you to effectively cover up any damaged area in minutes!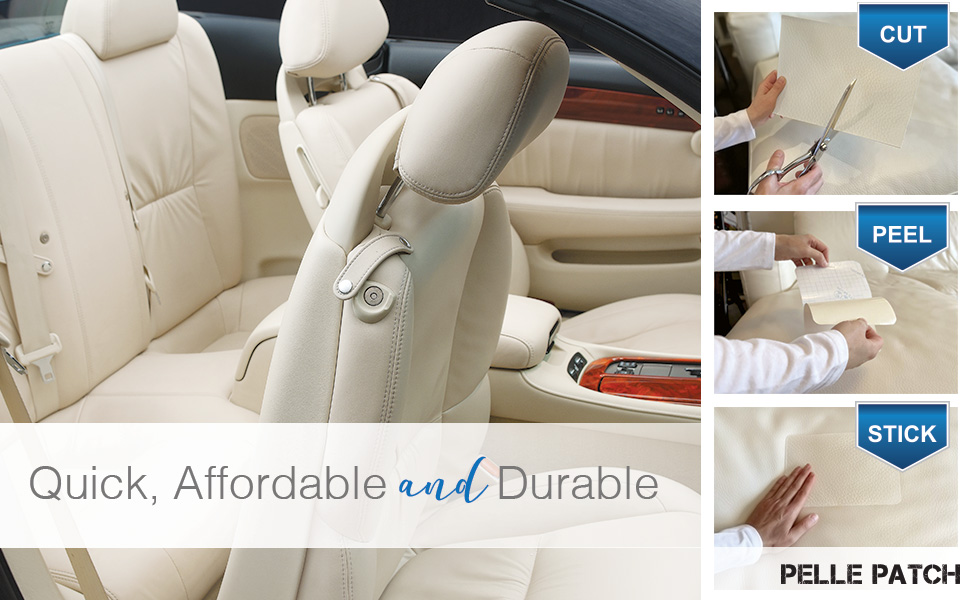 Easy as 123 - Cut, Peel and Stick
1. Clean the damaged surface
2. Cut the desired shape
3. Peel and Stick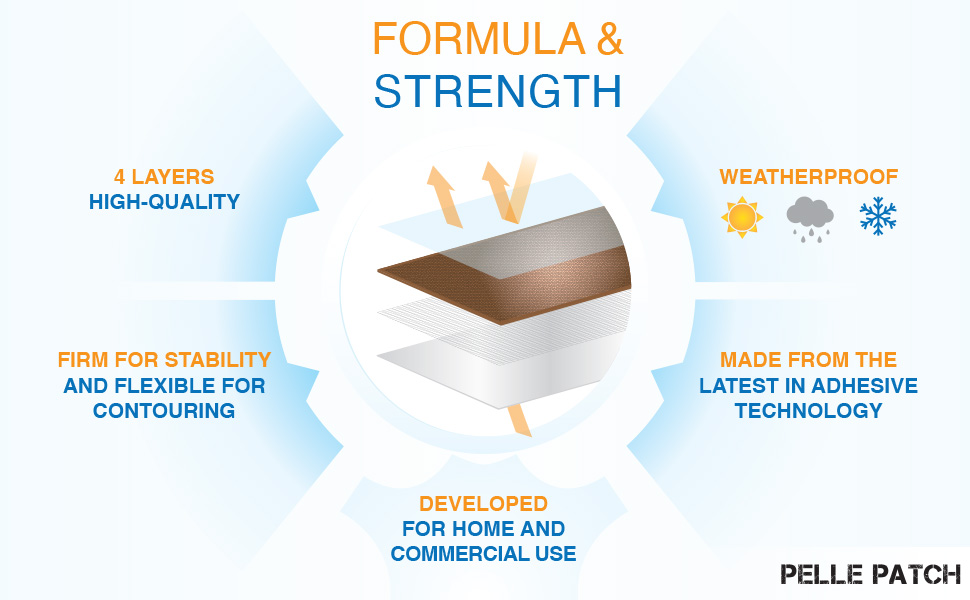 High-Quality Fabric and Strong Adhesive

We developed and tested our fabric to meet high requirements for maximum durability, making it ideal for high-traffic areas. Our fabric requires zero maintenance and is suitable for both indoor and outdoor use.

Our adhesive is designed for high performance and superior bonding. It is temperature resistant, waterproof, and manufactured in an ISO 9001:2022 facility ensuring a high quality, premium product.
Lots of Color Options

Our patches are available in 25 colors, including most of the standard options commonly seen on furniture. We spent many hours globally in research and development to find the most common colors used for leather goods. All of our colors have been specifically formulated and successfully achieved a 95% color match.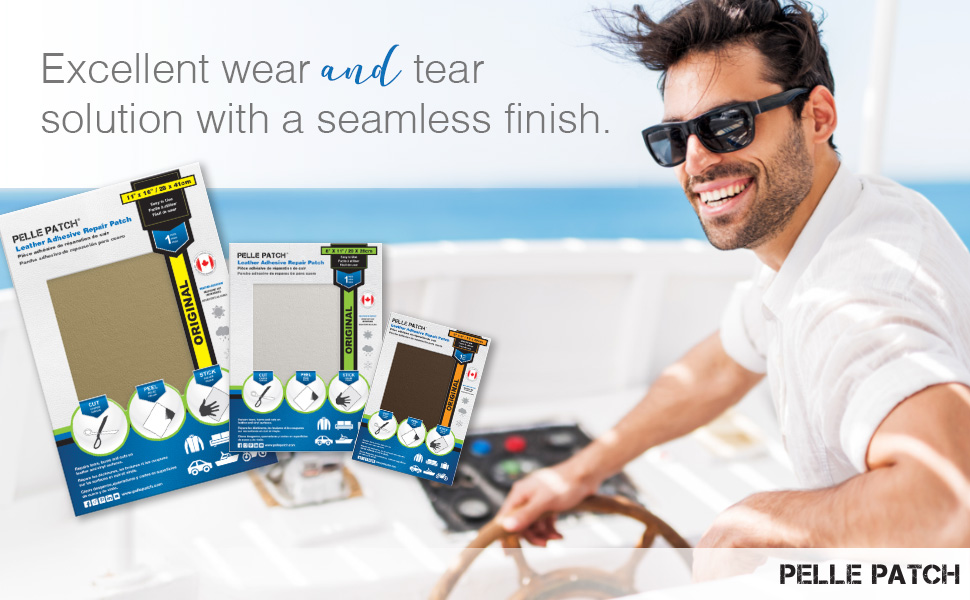 Clean and Beautiful Results Every Time
Made from high-quality synthetic leather, Pelle Patch is durable, lightweight and thin, resulting in a nearly seamless fit that restores your leather or vinyl item to its former beauty.

Our ultra-adhesive is also resistant to extreme cold or heat, meaning it can be effectively applied to damaged surfaces in cars, motorcycles, aircraft, marine-crafts as well as household furniture.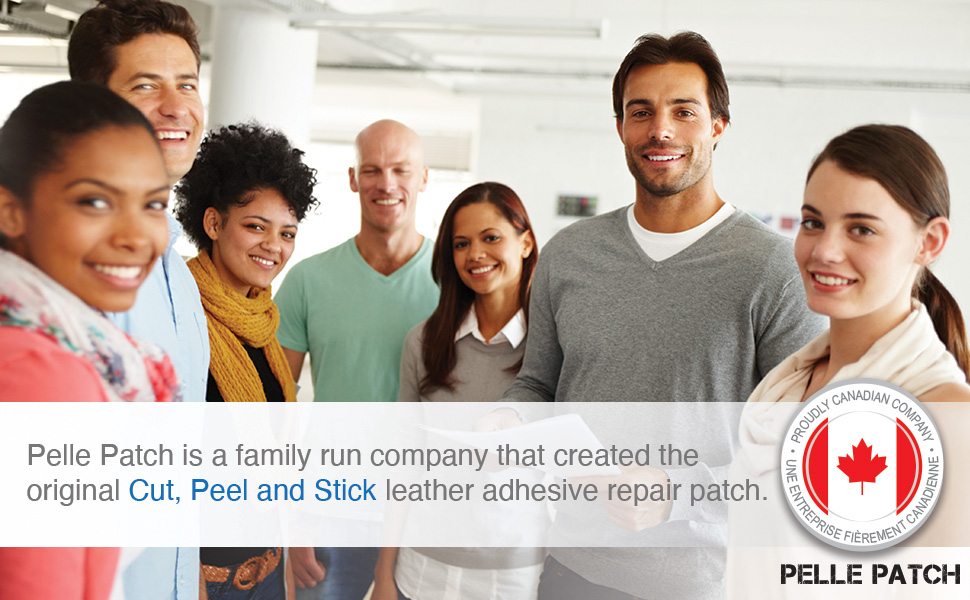 The Original
Pelle Patch is the original CUT, PEEL and STICK leather adhesive repair patch. Since our launch, we have grown and expanded our line. Today we are selling worldwide in over 50 countries, with more than hundreds of thousands of patches sold to date.
Pelle Patch is a Canadian family-run company. We design all of our products and carry the largest selection of colors. With years of experience, we are constantly testing and improving our products using the highest quality of materials.

Love seat make-over
"We were about to buy a new love seat because of the tears in the leather due to movie and sports watching on TV-:). I found this on Amazon - I ordered one to try and it looked great covering the major tears. I then ordered 2 more sheets and voila, all the tears are now covered. The adhesive is great and easy to cut and peel. The love seat looks like brand new again. Recommended."

Worked perfectly for me!
"This repair patch worked great. I cut the full patch into 4 long strips and was able to apply them to repair large intentional rips somebody had put under some arm rests (they removed some padding). The patch was very supple after applying (not stiff) and the adhesive bond strength was very good to the leather material. Fortunately, I was able to not only apply the patch on the leather surface but also press them down against the couch frame to ensure a very strong bond. Worked like a charm for my particular use case."

Great Product!
"When we adopted our puppy, he had chewed through a section of our brown vinyl covered bed frame. The Pelle Patch we ordered is a very close match in color, and has a matching colored backing and edge, making the cover up seamless. The adhesive is also great. I would buy this product again!"